Welcome to Yoga by Sarah
Login to your Yoga by Sarah account to check the status of your account, update your contact information, renew your membership and register for workshops and classes!
Introductory Offer
New to Yoga by Sarah? Receive your first month for only $39. Start any day you like and receive 30 days unlimited access to explore our Drop In Schedule, our studio and our community!
$39 + hst

Register Now
Child Minding Services
During weekday morning 9:45am classes, have us look after your child while you enjoy yoga class. $3 for the first child, and $2 for each additional child. No pre-registration required, just show up!
Check our Drop In Schedule for when it's offered.
Pre-Registered Classes
Our next 8 week session of Pre-Registered Classes starts the week of September 14, 2015. Our pre-registered classes include: Prenatal yoga, Baby & Mom yoga, Beginner Hatha yoga and Pilates classes. View our Schedule tab above for all the details!
Register by August 20 and receive a 10% early bird discount.
Upcoming Events & Workshops
Are you looking for the perfect gift?
How about a Yoga by Sarah gift card? Purchase an e-gift card here for any amount, that will get e-mailed to yourself or a recipient on the day and time that you choose!
If you prefer to pick up an old school gift card, please call 905-682-4469 or come into the studio!
Yoga Teacher Training Program
Our next program is starting in the Fall of 2015!
Are you interested in becoming a yoga teacher?
Or maybe you're interested in delving deeper into your yoga practice and learning more about the history and philosophy of yoga?
Study at one of Canada's longest running yoga studios with a seasoned and eclectic team of yoga teachers!
Get more information here!
A Meditation Sampler with Tony Murdock
You will be introduced to a variety of meditation techniques from a number of spiritual traditions.
September 15, 2015
6:45 PM - 8:15 PM
$30 + hst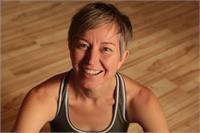 Yoga Tune Up Level 1 Certification Teacher Training with Todd Lavictoire & Amanda Tripp
"Make Creativity and Anatomical Fluency a Foundation of Your Teaching!
The Yoga Tune Up® Level 1 Certification Program strikes a balance between the worlds of Yoga and fitness, attracting trainees of all ages and body types. Learn the nuts and bolts of human movement and dive deeply into integrated anatomy and body mechanics while discovering a fresh approach to Asana. You will go beyond formulaic instruction and truly learn how to think and teach creatively within your classroom. Trainees are presented with "template" Yoga Tune Up® classes to help jump start their teaching. Successful completion and certification of the Level 1 training is mandatory prior to teaching any Yoga Tune Up® classes."
Intro to Aerial Workshop with Angela Theuerle
This workshop will introduce the basics of the OmGym system to you safely and effectively. You'll learn how aerial yoga decompresses the spine, strengthens your core and allows you to get deep stretches all while having fun!
$35 + hst Click the link below for upcoming dates!